Your Customers Will Thank You!
Clix Wipers® is a revolutionary wiper that can be replaced in seconds. We've patented a quick-release system that gives your mechanic the freedom to fit 100% of the cars on the road with one wiper.
Save Time. Save Money. Save on Labor. And Up-Sell Spare Pairs.
Wholesale Price $7.49 each
MSRP $14.99
---
Any order over $150 gets free delivery. Your order gets shipped within 24 hours. Shipping times? You choose whether you want it standard ground or overnight.
We make it easy to do business. Set up a wholesale business account and you can make orders at midnight if you have to. We've got your back!
Clix Wiper® is the only blade you will need. It has the most comprehensive coverage of any blade on the market. Stop turning away customers to dealerships.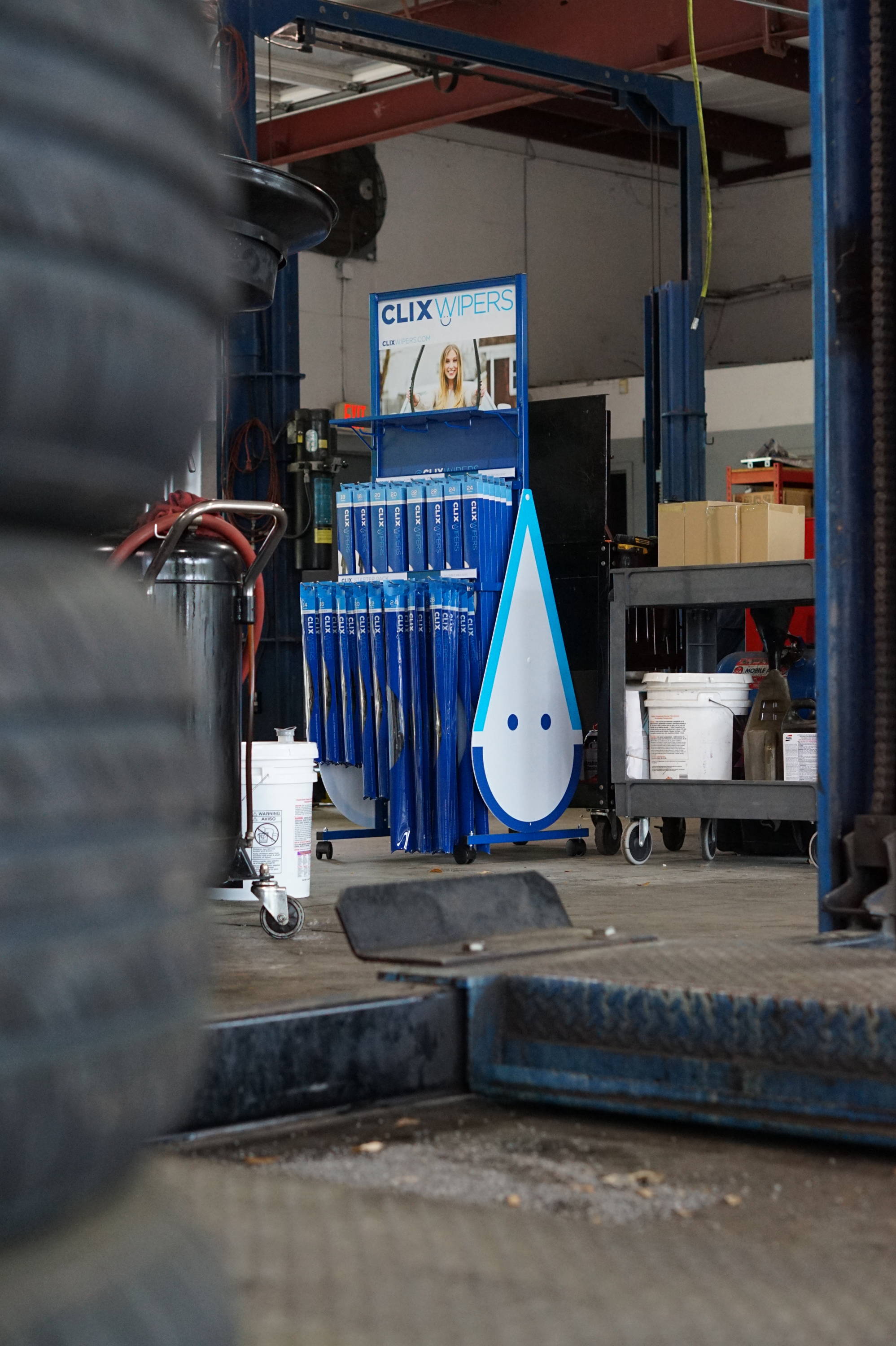 Free Shipping Order of $150+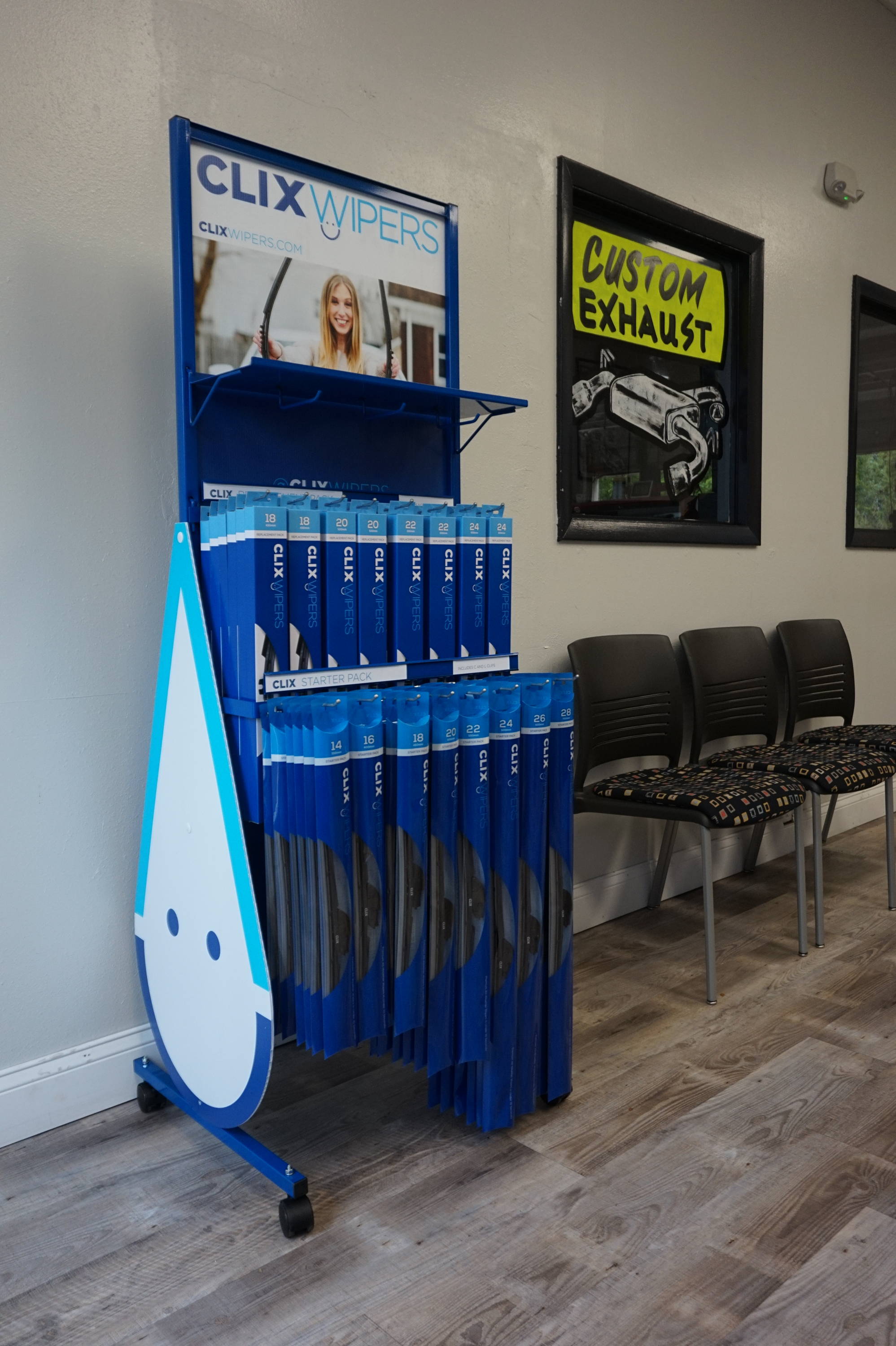 Save more money! We've designed the Clix Starter Kits to get you selling wipers on the right foot! We've included a FREE retail display, bay banners, branded sunglasses, marketing brochure, a marketing budget to promote you on Facebook, and of course, a full set of our revolutionary Clix Wipers! You choose the Starter Kit that is best for your shop!
HUSTLE Starter Kit (96 blades) - $719.04 $647.14
GRIND Starter Kit (48 blades) - $359.52 $323.57
---
---
---
---
---
The Clix Collection is a comprehensive wiper program built for installers. This is what every competent of the program includes:
• Clix Starter Pack - Clix Wiper Blade with C-Clip & L-Clip
• Replacement Pack - Clix Wiper Blade (no clips)
• Ammo Box - Pack of 50 or Pack of 30 Clips (for Garage Use)
• Duo Clips - 2 Clips for Retail Sale
---
Clix Ammo Boxes save you time and money. Grab only the clip you need. Stop throwing away unused clips. It's like throwing a $.25 in the garbage every wiper you install!
The Ammo Box holds either 50 or 30 Clips. The most common Clips (C & L) fit 95% of all the cars on the road. The X-Clips fit rare dealer-only wiper arms for a complete fitment!
---
The magic sauce to Clix Wipers is the Clix Starter Clip. Match the appropriate clip to the arm and install it only once. You can then infinitely replace Clix Wiper blade in seconds with a "click".
Welcome to the family! Clix Wipers® was patented and developed by us for drivers. We are a family owned business that understands what it means to Hustle and Grind. After slinging wiper blades our whole lives, we knew there had to be a better way to serve our customers and the drivers using our product. By becoming a wholesaler, we make a pact to hustle and grind TOGETHER. Our success is measured by your customers satisfaction. If you look good, we look good. Period. Let us help you design strategies that will bring more drivers into your shop and leave you feeling satisfied with a job well done. Get started today!
- The Clix Fam
---
Clix Wipers® has patented a quick-release wiper that makes it easy for mechanics to install and up-sell wipers. Easy training translates into easy sales. Once your mechanic installs the Clix Wiper® it's simple to sell an extra pair to the customer as a back up pair. More wipers, more money in you pocket. This all-weather beam blade was designed with quality in mind - tested to perform in the most demanding environments for more than 1.5 million swipes!
---
With an opening order of the Hustle or Grind Starter Kits, you will receive a Clix 16-Prong display (plus much more promotional materials). Clix Wipers® is your first truly customer friendly retail wiper blade. Place the display front & center in the waiting area. Your mechanic or front desk manager will easily up-sell the Clix Spare Pair to through into the customers trunk. Your customers will thank you! (Premium Clix display shown here.)
---
Clix Wipers® will give you the best opportunity for promotions. The Clix INK® printed wiper program began in 2013 with the first ever pink wiper. Garages around the country helped generate hundreds of thousands of dollars for the National Breast Cancer Association! Build your business and do good for the community. It's the perfect match.
---
Clix Wipers® is continuously serving up great content for you to use! Sign up for our newsletter - cut, copy, and paste any of our content into your own newsletters and emails. Have a suggestion? Please contact us and let us know how we can make your customer experience better. Because we know it's not about you, it's about how satisfied your customers are!